On June 6th 2015 AZAB will start, a race for single and two handed crews. The race consists of two legs: from Falmouth to Ponte Delgada on the island São Miguel, the Azores, and return.
Initially the plan was to sail with VANDAL, a VQ32. At the beginning of May we sailed her from Shetland through the Hebrides and the Irish Sea to Falmouth. During this beautifull trip we realized that some important things were not working as they should have done. Since time was short to get everything sorted, we decided in Falmouth not to start the race.
Back in Lelystad I decided to enter with JAGER since the AZAB is a good race to test things and to see what works on the ocean with a small crew. It is also good competition!
During the race I will try to send messages. You can also follow the tracker: azab.co.uk/race-tracking-2/ JAGER is in class AZAB 3.
AZAB Back
On the first leg my aim was to have a good passage and to finish above the middle of my class. However, since I had become 4th in my class on the first leg with 2.5 hours on number 1 and 8 hours on number 5 there was a chance of a podium position. Depending on the conditions I could beat either Zest or the Rustlers.

Although the start doesn't matter much on such a long distance, I couldn't resist to be the first across the line and around the topmark. I also had my spinnaker filled when my competitors still needed to hoist it. Unfortunately the sheet came loose and while I took the spinnaker down, it ended up in the water. This cost me a few hundred meters and 1st position.

Along the coast to the west, there were wind shifts everywhere. One moment another boat past me within 100 metres going 1 knot faster, the next moment I was ahead. On the west side of the island we got the promised NO wind. I could see local boats with much more heel near the shore, so I tacked for a few miles to get into it. It worked well and I ended up in the front of class 2 while I was racing in class 3.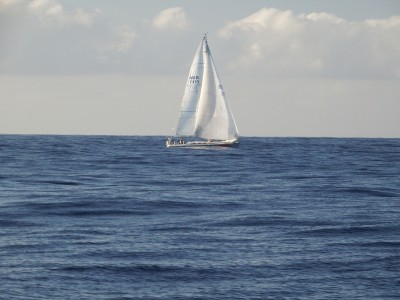 My strategy was to defend my position, locate myself north of my competitors and see how much east I could make. There was a big calm predicted for Biscay, so most boats set a course at least 15 degrees further North. The fastest boats could profit from a low a couple of days later, if they sailed much more north. I reckoned I was too slow and would be too late to profit from this. During the first good running conditions, favourable for the two Rustlers, I decide to push JAGER and run away to demotivate them. It worked out well. However, at the end when the front had passed and I was hand steering the boat for a few hours to avoid reefing and taking down the high aspect, two waves appeared. Jager's voluminous bow pointed through and there was massif water till the mast position on deck. I decided it was not wise to continue sailing fast (17.33 kts max) so I took down the high aspect. With 30 kts of wind and only the full main, it was under control again.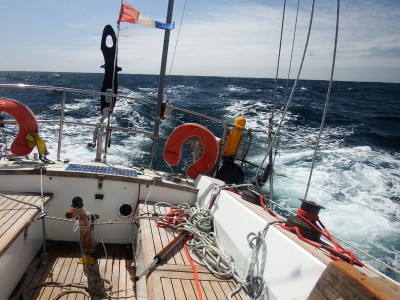 Because there where several calms ahead, I tried to take position so that the following boats (Jager was in the lead) could gain, but not pass. This worked out all right although I lost a lot of miles. Past halfway I blew up my asymmetric and made two repairs on the main sail. My code0, already beyond repair at the start of the race according to my sailmaker, made it another two days. Then there where so many loose threads that caught all standing and running rigging in her way, that I stopped using it. The only spinnaker left had a damaged top because all the reinforcements were gone. I repaired it by glueing and stitching Dacron over in and then it looked fine again.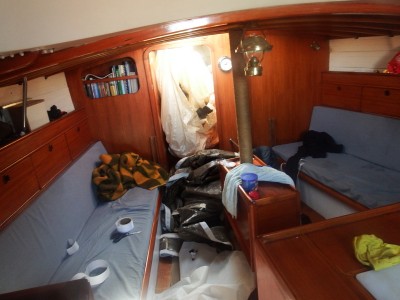 During the trip I slept three times through my 3 alarms. Therefore, the day before arrival I decided to rest as much as possible so I could make the finish in full racing mode without any rest. The last evening I hoisted the spinnaker and hand steered, while gybing several times to pass The Lizard in 14 kts of wind and a difficult sea state. From here I could spinnaker to the Manacles and just made it to the finish. The last mile nearly cost me an hour. There was hardly any wind and I had to tack twice.

After the finish you just have to wait and see how the others will do. The final result was that
I became 2nd in leg 2 and 2nd in my class with first and second leg combined. With less than an hour difference from the doublehanded sailed boats, I was happy with the result. I also know that I made it a real race for two other boats in my class, Aliana and Happy.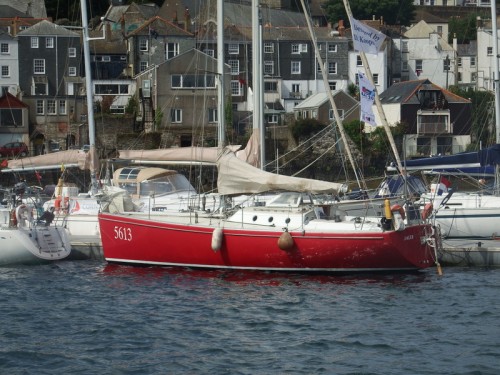 Line Honours in AZAB 3
2 July 7.00 hrs. Dick finished 30 minutes ago. Yesterday he rested as much as possible so could give it all last night. And it has worked. Just before the wind died down and with the turning of the tide he sailed across the finish line.
1 July 16.30 hrs. Text: hopefully the wind will stay. this morning I repaired the spinakker. used it for 3 hours. now ha. the last nm will be hard but the finish is near.
30 June 7.30 hrs. we're getting there. wind shifting directions. I did have a sleep.
29 juni 11.00 uur. Text: sailing with 1 reef and ha and windpilot. have to save energy for last distance.
Dick was having problems with receiving and sending messages yesterday, but this morning we received a text:
29 June 8.00 hrs: with a bit of luck I won't need spinnaker in the next 24 hours. until 3 am quiet night then Spanish fishingfleet.
28 June 8.30 hrs. Text: just changed to spinnaker now 5.5kts. Needed sleep last night so slowed down with gen.
27 June 23.00 hrs. Text: wildlife score: 1 turtle, several dolphins, only a few birds and wings of flying fish. And many Portugese warships.
27 June 21.00 hrs. Text: reduced sail, autopilot couldn't handle-now windpilot

27 June 16.30 hrs. Text: Removed ha. sea is rough and wind gusty. still going 8 kts.
27 Juni 13.00 hrs. Text: resting for tonight expecting light winds. Changed to jib two hours ago. 0.2kts difference and more comfortable.
27 Juni 9.00 hrs. Text: Last night spinnaker down at 20 kts. Now mainsail and old ha.
26 June 13.00 hrs. Text: Tried everything last night in light wind. In the end code 0 best in swell. Slept from 03-07 in snatches. Now spinnaker and windpilot. Did dishes. Bananas and lettuce over the side. I've still got leeks, carrots and onions.
25 June Phone & Text: Last night the wind was more than 30kts. This afternoon it had eased to 18kts. He was sailing with ha on spinnaker pole and "an other sail". He wanted to know how he was doing in his class. In his text he wrote: I'll just continue sailing. Having a rest, it's too hot outside. Later I'll put the spinnaker back up.
24 June 13.00 hrs. Text: last night code0 then spinnaker. now 18 kts wind and ha 2x Vijaja in front, Happy behind
23 June Start 2nd leg AZAB.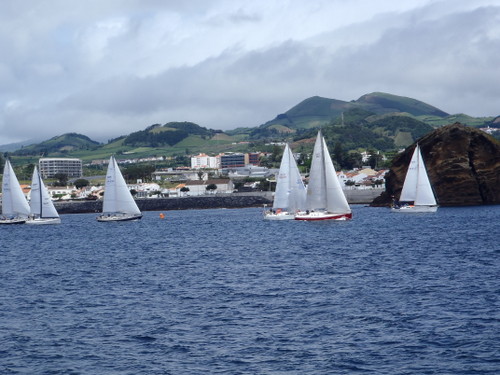 The AZAB from Ponta Delgada! by Dick

We have been here for some days now, so it's time to put something on paper

Two days before the start were two days short. There was just not enough time to prepare myself well enough and it was surely not enough time for the body and muscles to recuperate. 400 Nm tagging against 18-35 kts of wind is not the best warming up.

The start was a bit of a mystery to me. It wasn't clear to me at what time which flag would be up or down, only mark up and mark down. In the end, due to the boats, also with spectators, I couldn't see any flags. I think I started too early but the starter didn't think so and he is a professional.

First half wind to Manacle, a shallow and then upwind to the Azores. To my great surprise most boats sailed much lower while a higher course would bring them faster to the finish. So Jager was in the lead of the fleet.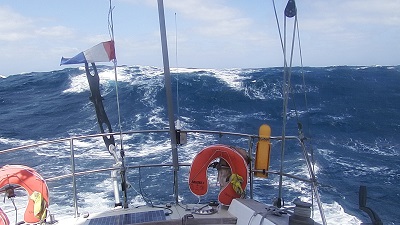 The forecast for wind direction was ok, but there was a 3.5 m swell from NW and the wind was due 22 kts from NE, so the gulf pattern promised to be interesting. During the night, the wind changed direction so we could sail on course and even use the spinnaker. I was one of the first to put it up and changed therefore from the most windward boat became the most leeside boat.

After the first 24 hours, the wind increased and strange cross-waves started to build up. Normally you can spinnaker with 20 kts, but now I found the sea too restless. Also the wind came strait from behind and with a spinnaker you have to change your course considerably to keep everything under control. That's called: Fast sailing in the wrong direction. So I hoisted the high aspect on windward on the boom and another one on lee. This is a safer option, when you sail solo and there is no one in the cockpit to react.

The wind remained strong and gusty. Within an hour, it would change from 18-35 kts, so you had to set sails for 35 kts, while the wind was only 18 kts. During the day I often handsteered during watches of 3 hours with the jib up, then changed to storm jib with a spiboom to windward to have a rest.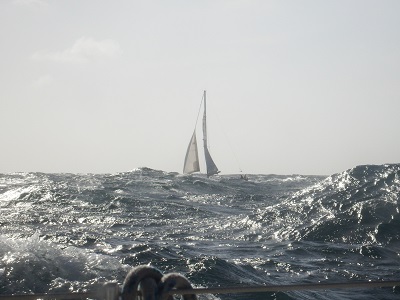 The nicest moment of the race was on day 2. I just steered Jager on a nice wave with 12 kts when I saw a big piece of plastic floating in the water that I wanted to avoid. Halfway on the surf I realised that it wasn't a piece of plastic but a 12m fin whale. I passed him or her at 4 m from the head. Because the sun was high and the water clear, I could see the whale as if it was in an aquarium.

The strong wind with strange cross seas remained for 3 days. All the time I was tossed around in my bunk. Then the pendulum of the windvane broke. Crash-gype, but no more damage. I had brought a stronger, but smaller pendulum as a spare. The advantage of this pendulum is that the chance of breaking smaller is, however the disadvantage is that I can't sail fast because the boat would get out of control. So I had less sail and less speed.

But, before I changed the sail I broke the boat record. While I was hand steering there was an other cross wave which reached the boat exactly at the right moment. This resulted in a boat speed of 18.56 kts, which is a knot faster than the old record. Since the chances of damage are much higher during peak speeds I put in an extra reef in the main and hoisted the storm jib. Then the possibilities of damage are pretty small and you have time to have a nap.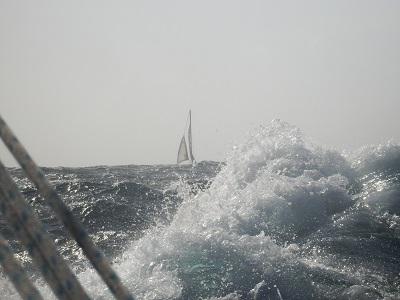 Because I didn't go for victory, due to the fact that I had only a short period of time for preparation and I was sailing with old sails (the main is the most recent addition to my sail set and has been used for 25.000 nm), my main goal is to sail without damage. Therefore, the ½ kts speed loss was not such a problem. However, after 3 days it turned out that I was not doing too badly after all. I had sailed in the right direction and gyped at the right time. I was 4th in my class of 17 boats and not too far from number 1.

As soon as the wind eased on day 4, I set a high aspect on lee and windward and the end of the day I could even use the spinnaker which I changed after 14 hours for the a-symmetric. This sail I could even use for 16 hours as we approached the Azores.

It's up to you which way you want to round the island. To the right is 20 miles shorter, but you are 15 miles longer in the lee of the island. So I figured that to the right with a 2 kts boat speed I would be there just as fast as to the left with 5 kts. Hence my decision to choose the right. An other reason was that the three leaders in my class went the same way and I'd be close enough for competition. Looking back to the left would have been better, but in hindsight everything is easier to decide.

Because I was the last of the 4 boats in the leading group of our class, I could see what the wind was doing in front of me. This way I could catch up. At this moment, it is unclear whether I'm 3rd or 4th. BST, time on the Azores and GMT have all been mixed up when the finish times were recorded.
However, I'm in a better position than expected with even a chance of the podium and there is no difference between single and doublehanded crews. Also I am the only solo competitor in the leading group. Beforehand I'd expected to be 5% slower than the first boat. At the moment it is 1% which I'm well pleased with.
Start of the AZAByoutu.be/r0VoCMD-V2Q
14 June, 14.00 hrs. I have just spoken to Dick on the phone. The results on the AZAB website are NOT correct. There are problems with the computer. When all boats have finished the correct times will be published.

Just after 8 pm last night Dick finished leg 1 of the race. When I talked to him he sounded excited about the trip: the wind, the waves, the whales, he even said that his problems with the windvane and the autopilot had been a possive experience. The last 24 hours he'd used every sail on the boat except for the storm jib.

I'm sure he'll want to write about his race soon, but at the moment can't type. Due to the sail handling his fingers are so swollen that he can't press the buttons on the keyboard. However, watch this space.
Jolanda

When will JAGER finish today?
Juni 13, 8.30 hrs. Text: tactics will be tricky today. well we'll see

June 11, 21.00 hrs. Text: 11 juni, 21.00 uur. Sms: sailing under spinnaker, wind subsides.
June 11, 11.00 hrs. Text: All night Swan 47 (Outrageous) in sight. Finally I can use the windvane again. Nice and quiet!

Juni 10, 20.00 hrs. Text: gyped. ha on boom, jib aan lee, main 2 reef. humidity from 90 to 70. not much wildlife. sometimes few birds. but I already saw my whale the day before yesterday. like in an aquarium and so close!

Juni 10, 13.30 hrs. Text: sea has calmed down a bit, wind less gusting. 24 tot 28kts. I'm sailing with double reef and jib. will gype later, wind will become more northerly. bread from the oven, gone in a sec!
June 9, 23.30 hrs. Text: bootrecord now 18.56. hand steered for a few hours tonight.

June 9, 19.30 hrs. Text: sea very rough 24-38 kts. I'm constantly tossed around. Wind will decrease tom. evening
June 8, 18.00 hrs. Text: gyped. storm jib on boom. Windpilot is steering. this costs speed but makes it more comfortable. 12m whale passed at 3m

June 8, 11.00 hrs. Text: this morning pendulum broke in 35 kts of wind. Use spare. No damage. Spare too short for optimum sails.
(note: Whenever he can Dick will use the windvane instead of the autopilot)
June 7, 19.20 hrs. Phone: It was quite windy: 22 kn from straight behind. He sailed with jib and ha. Last night had been a busy night with a lot of shipping. He'd hand steered while under spinnaker. So today he'd tried to rest as much as possible.

June 5,
Pendennis, Falmouth. Registration done and briefing finished. Now I just have to buy some final goods. According to the weather man all weather models show a nice wind; W 15 kts at the start, then N to NE 20 kts.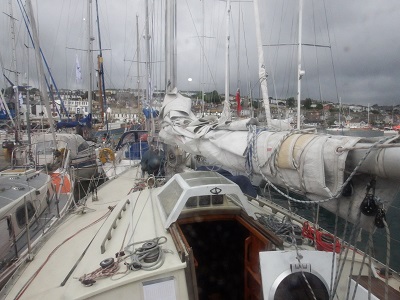 June 4
During our trip from Lelystad to Falmouth we had a lot of headwinds and steep waves. Fortunately I made it in time and still had two nights for a good rest.
We stopped at Ramsgate (strong headwind and current), Dover (rip in mainsail and problem with the sliders), Gosport (35kn headwind) and Torquay (to drop off Jaap so he could catch his flight to the Netherlands). The last 40 miles there were a lot of dolphins around the boat.
29 May
Jager and Dick & Jaap are ready to set sail.

May 26
All long lasting food is on board., Water and diesel tanks are full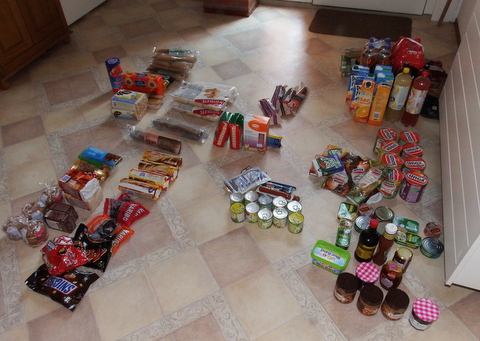 Windpilot, Raymarine pilot and spare drive, and spare Autohelm computer and drive are all working.
JAGER is ready and will leave from IJmuiden on Friday
May 21
Preparations are on scedule. All ISAF cat1 regulations are checked and OK.
Beside these I have still some personal wishes.
You can follow the trip with vandal here This video might not work in Germany